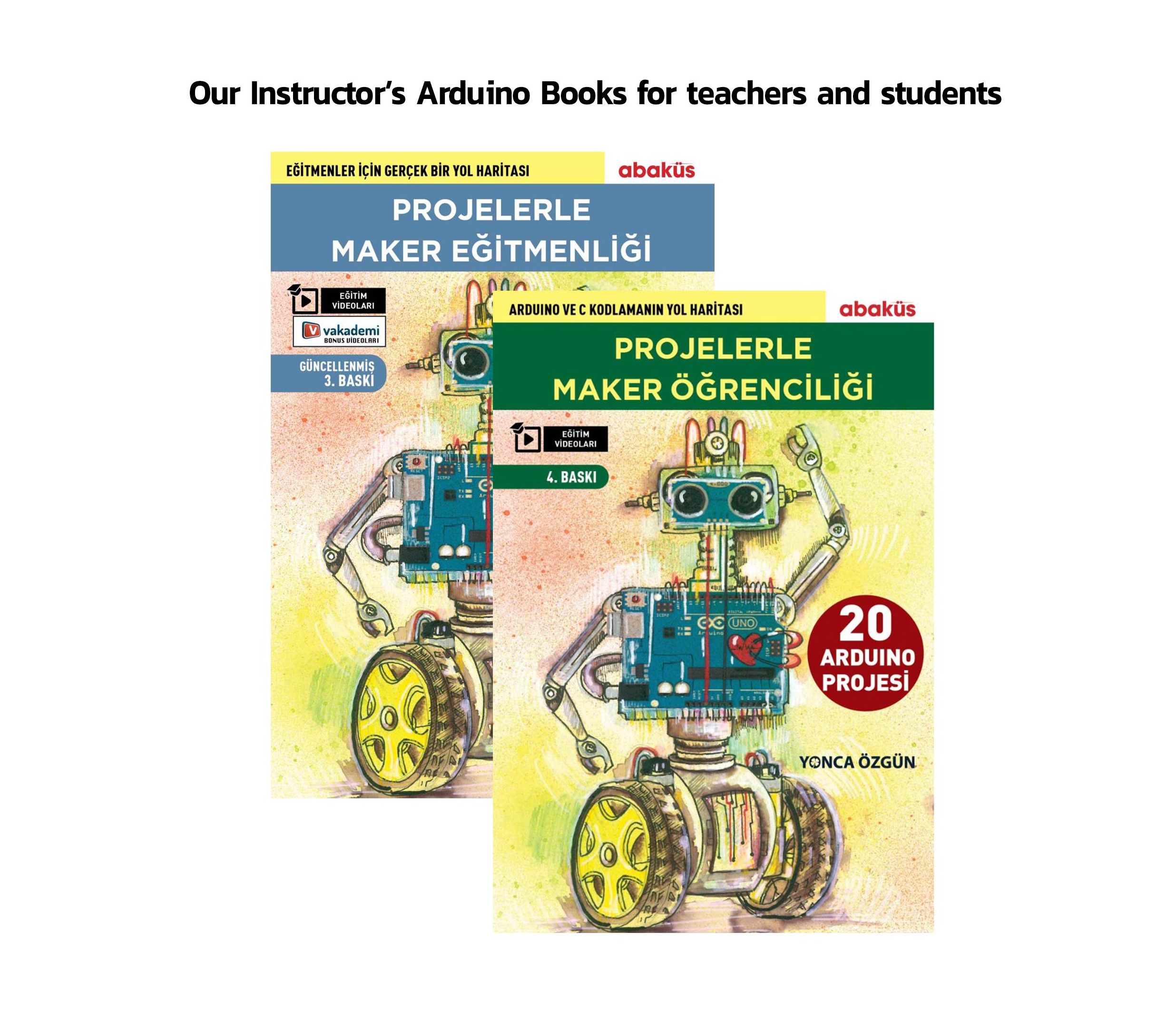 Arduino and C Programming Fundamentals
Learn variables, loops, decision structures, functions and more in C programming language
Use sensors, modules and motors and many more circuit elements with simple to complex Arduino projects
Develop your own project step by step
About the Course
This training; offers a learning journey prepared by a computer science teacher, with tried and successful teaching methods.

Awaken the inventor in you!

Attention! Education contains an overdose of code! Just building circuits is useless without coding. By following the steps in the projects throughout the training, you will receive Arduino training with tasks from simple to complex, have basic knowledge of the C coding language, and also learn the general logic of programming languages. At the end of the training, you can produce your projects by activating your imagination.

You do not need to have the technical knowledge to take this training! A little excitement and lots of desire are enough! I guarantee your excitement will increase as you learn :)
Dear students;

In this century where information is so accessible, the key to success is; learning by doing, living, dreaming, being curious, and working hard without being afraid of making mistakes. Your self-realization will be possible by turning your curiosity and dreams into action. Take a big step in the Robotics world today!
Dear educators;

All educators who have adopted production-oriented education as a principle, who are interested in learning and teaching, who want to cooperate with academic disciplines, and all adults from all professions who want to step into the development of projects by programming Arduino! This tutorial is for you to get an actual start!
Meet the instructor / Yonca Kurt
Yonca Kurt is the founder of Tech Study UK. She graduated from 19 Mayıs University in Computer Education and Instructional Technologies in 2003. After graduation, she worked as a computer science teacher. She is in this field since 2003. She worked in top schools as the educational technology manager in Turkey.
In 2017, together with her students, she was selected for the Canada Wide Science Fair held in Canada, representing Turkey, and returned to the country by winning two gold medals with two projects. In 2019, she represented Turkey with a robotics project prepared by students with her at the International RoboRAVE Competition held in Poland and won a gold medal for the third time with her students.
In 2017 and 2020, she was selected among the most successful female educators of the year in the Women's Leaders of Technology Competition organized by Microsoft.
She attended programming training organized by Stanford University in 2014 and 2015.
She is also an official IB Teacher. She has taken part in an official IB trainer session in Berlin, in 2020.
She provides private coding lessons for high school and university students and she has private students from all over the world.
From the USA: Boston University, Northeastern University, Tufts University, and more…
From the UK: UCL, Imperial College London, Royal Holloway University, University of Surrey, Nottingham Trend University.
From Germany: Ludwig Maximillian's University
and more…
Besides that, she provides private coding lessons to high school students studying in different countries from the UK, USA, Spain, Sweden, Germany, United Arab Emirates, Turkey, and more.
She has four published books in this field that inspire teachers and students. Which are "Maker Educator with Projects", and "Maker Student Education with Projects" published about coding and Robotics. She wrote, two more books to help teachers struggling with distance teaching, "Distance Education Must" and "Google Passwords in Education".
She first has her own company in 2007 with her name and she has led a learning community that makes a difference in the country with the training she has given at her own education company in Turkey in 2017.
Yonca Kurt, who provides training and mentorship to both teachers and students in the fields of Maker, robotics, and programming, has worked on how technology education should be given for many years, as well as developing curriculum for different age groups. Within the scope of the academy, of which she is the founder, she took the Maker Trainer training further and started the Advanced Maker Trainings. Again, she developed the RaspberryPi & Python Physical Programming Instructor Training program for the first time in Turkey and took the training to the next level. Besides her coding training, she provides technology training consultancy to leading institutions in the sector and system installation consultancy for maker & robotics workshops.
She continues her work in the UK within the technology training and consultancy company "Tech Study UK", which she founded in London, England.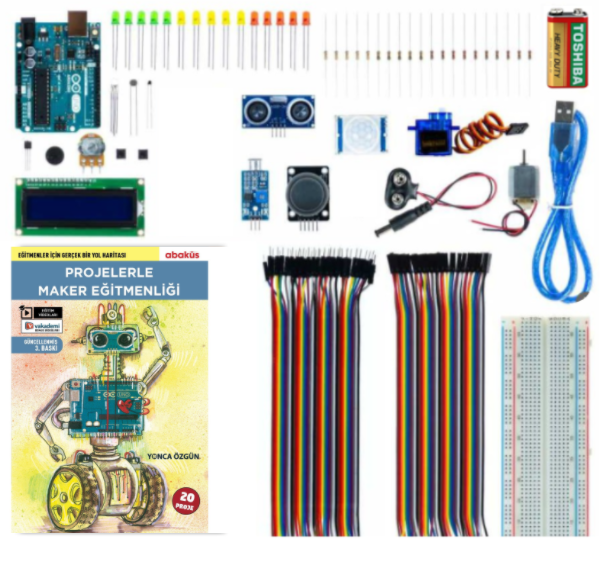 1 - Arduino Uno
10 - Direnç 10K Ohm
3 - 10K Potansiyometre
3 - Servo Motor Sg90
1 - Hc-06 Bluetooth Modül
1 - Cr2032 Pil - 3V Lityum
20 - Farklı renklerde led
4 - 6V 250 Rpm Motor Tekerlek Seti
1 - Buzzer
4 - 6X6X2 2 Pin Tach Buton
1 - Breadboard (Büyükboy)
1 - 5Mm Ldr
1 - 2X16 Lcd Ekran
1 - 40 Pin Jumper Erkek-Erkek 20Cm
1 - 40 Pin Jumper Dişi-Erkek 20Cm
1 - Hcsr04 Ultrasonik Mesafe Sensörü
2 - 9V Duracell Pil
1 - Jaklı Pil Başlığı
1 - Jaksız Pil Başlığı